About the San Lorenzo Dog Training Club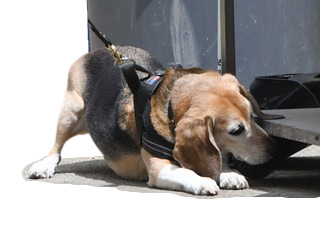 The San Lorenzo Dog Training Club (SLDTC) is a non-profit organization that has been serving the greater East Bay of the San Francisco Bay Area for over 50 years. We offer puppy and beginning manners classes as well as classes for all levels of competition obedience. We also offer conformation, canine freestyle (dog dancing), and occasional rally classes. Pure bred and mixed-breed dogs are welcome. In addition, we are licensed by the American Kennel Club (AKC) to offer obedience trials and matches.
We believe that obedience training makes your dog a better companion. Therefore, we offer a variety of classes at all levels of training. Our classes are for those individuals who want to:
train their dog in obedience for degrees;
show their dog in conformation; and/or
deepen the level of companionship with their dog.
Remember, an obedient dog is a happy dog!
History
The San Lorenzo Dog Training club was founded in February of 1953 with nine charter members. Our first trainer, Peggy Tokes, was employed by the Club in March of 1953. The Club was incorporated on June 10, 1953 and held its first sanctioned match on October 28, 1956 with the second match following on May 12, 1957. Our first AKC-licensed all-breed obedience trial was held on May 11, 1958, and has been held annually since then. In 2006, the club began to also offer rally at its annual obedience trials.
Club Objectives
Promote the training of dogs;
Disseminate knowledge regarding obedience training;
Conduct classes for the training of dogs and their handlers;
Encourage the training of judges;
Hold and support obedience trials, rally trials, and tracking tests under the rules and regulations of the American Kennel Club;
Promote cooperation and good sportsmanship among its Members in the training and exhibition of dogs;