Therapy Dogs & Community Service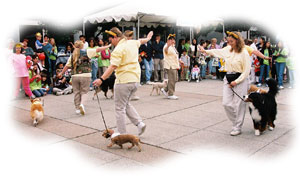 Interested in Therapy Dog work but don't know where to turn? Many San Lorenzo Dog Training Club members and students serve the community by doing therapy work with their dogs. Learn about some of the Therapy Dog organizations and programs that they participate in.
In addition to offering a wide range of obedience classes, the San Lorenzo Dog Training Club is very active making a difference in the community. We have a therapy dog team, a dog dancing team, and a canine ambassador program that visit a variety of facilities, organizations, and schools in the community.
Read about how our therapy dogs worked as comfort dogs at the Oakland warehouse fire.