Resources for Therapy Dogs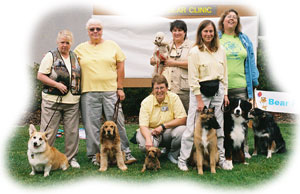 Interested in Therapy Dog work but don't know where to turn? Many San Lorenzo Dog Training Club members and students serve the community by doing therapy work with their dogs. Here are some of the Therapy Dog organizations and programs that they participate in:
Organizations
Therapy Pets trains and certifies in the Oakland area. Therapy Pets volunteers at Kaiser Oakland, the San Leandro Library (Paws to Read Program). Several San Lorenzo DTC members have registered their therapy dogs with Therapy Pets.
Pet Partners (formerly known as the Delta Society) is a national therapy dog registration/certification organization. Pet Partners holds periodic evaluations at the Napa Valley Dog Training Club.
LAPS runs therapy programs in Napa, Sonoma and Solano Counties. It also holds animal-assisted therapy team training classes. LAPS registers all its therapy teams with the Delta Society / Pet Partners Program.
Programs
Paws to Read Program
Beginning readers might be self conscious reading aloud, particularly in front of an adult who might constantly correct mistakes. In the Paws to Read program children gain confidence by reading to dogs, who provide an alert but non-critical audience. Each session is divided in half, with the dog listening to a different child read in each half. Several SLDTC members and students participate in the Paws to Read program.
Local Paws to Read programs take place at:
Paws to Read Program in Castro Valley

The Paws to Read program at the Castro Valley library meets from 6:30 to 7:30PM the first Monday of every month. If you are interested, contact Marianne Dimick at maddk9@dimicklaw.net. Valley Humane Society certifies dog/handler teams for the Castro Valley program.

Paws to Read Program in San Leandro

The Paws to Read program at the San Leandro library meets on Tuesdays. It is handled by Therapy Pets.
AKC Therapy Dog Program
The AKC Therapy Dog Program recognizes AKC dogs and their owners who have given their time and helped people by volunteering as a therapy dog and owner team.
Dogs who have been certified by AKC recognized therapy dog organizations and have performed 50 or more community visits are eligible for the AKC Therapy Dog title (THD). Participation in the Paws to Read program, for example, counts toward a AKC therapy dog title.
Looking for More?
TherapyDogOrganizations.net has a pretty extensive list of therapy dog organizations throughout California (it even includes San Lorenzo Dog Training Club).