Member Dogs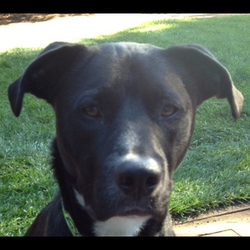 Call Name:

Niko

Registered Name:

Sir Niko of Puppy

Titles Earned:

CGC
NW2
NW3
RN

(Mar 2014)

BN

(Apr 2014)

CD

(Jan 2015)

RA

(Jul 2015)

NW1

(Oct 2015)

RE

(Apr 2016)

Breed:

Mixed Breed

Gender:

Male

Birthday:

March 25, 2011

Owner:

Susan Solomon

Notes & Brags:

Sep 2017: Niko finished his NW3 title at Pacific Palisades. It was only his second attempt, so his mom is super proud.
Oct 2016: Niko got his NW2 title in Reno. He did a great job searching in the heavy rain.
Apr 2016: Niko earned his Rally Excellent title at the Chief Solano Kennel Club Show in Vallejo on April 23. He was entered in both the morning and afternoon rally trials and qualified in each to complete his title. Particular "hooray" for him getting that done outdoors.
Oct 2015: Niko got his NW1 title at Josette's Nose Work Trial and won the Harry Award for most outstanding rescue dog. I was super proud of him.
Jul 2015: Niko got his RA title, earning his final two legs in Carmel at the American Rottweiler Club and Del Monte Kennel Club trials.
Jan 2015: Niko got his 3rd novice leg, a 4th place ribbon and completed his CD title in San Jose at the Mission Bell Cluster.
Sep 2014: Niko got his 2nd CD leg and 1st Rally Advanced leg at Mensona.
Apr 2014: Niko finished his Beginner Novice title at the Chief Solano Show. He got first place with a score of 194 ˝.
Mar 2014: Niko finished his Rally Novice title at the Vintage Cluster in 3 straight days with scores of 86 (2nd Place – his first show!), 96 (4th Place), and 97 (1st Place). He also got 2 legs towards his Beginner Novice title with scores of 188 (4th Place) and 189 ˝.